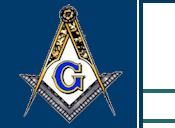 Our Masonic Journey

Our journey in this ancient fraternity began, when we were prepared in our hearts to take that first step in Masonry. It started at the West gate with three distinct knocks answered by a like number from without and we were subsequently brought from darkness to light by being introduced to the concepts and principles of Freemasonry. This was true on every occasion as we sought more knowledge about or gentle craft as we progressed through each and every degree.

In an article written by Worshipful Paul Miller in the Fall 2016 edition of the Virginia Masonic Herald titled "Discomfort as Motivation". Worshipful Miller points out that our Masonic journey did not end once we became Master Masons, it had in fact only just begun. The overarching concept of his article makes a valid point; we as Master Masons should not be satisfied with the status quo. The level of comfort mentioned, alludes to becoming satisfied with what has been provided to us in the way of ritual on our way to becoming Master Masons or having completed our Master Mason catechism. Hence our journey in Masonry is considered by many completed, that we have attained all the knowledge relative to our fraternity.

Nothing could be further from the truth, becoming Master Masons, should not signal the end of our Masonic journey. Instead we should strive for something more, always seeking further knowledge in Freemasonry in order to enlighten and improve ourselves, essentially making ourselves better men in all aspects of our lives. Accepting anything less implies that we have become content and are satisfied with what we know about Freemasonry and desire nothing more.

Our Masonic Journey is one where as Master Masons we constantly challenge ourselves in the attainment of knowledge in effort to improve ourselves. Those who seek to embrace the basic precepts of our gentle craft are builders and craftsmen whose industrious nature contributes to the betterment of themselves and others in Freemasonry. They also serve to better inform those unfamiliar with our fraternity that they might themselves desire to become a part of our noble craft.

All of which leads to the one question. What happens after becoming a Master Mason, what comes next? If you want to scratch that itch, you need to take that level of uncertainty and use that as motivation to expand your knowledge about Freemasonry. Start by looking within your own Lodge as to what you need to do in order to continue on your Masonic journey. Lodges are always in short supply of brethren who are not proficient enough to occupy a chair on a degree team or are not well versed enough to give a degree lecture. Participate in the degree work, learn a chair, lecture, prayer, memorize anyone of the degree charges, become a part of a degree team. Most lodges are in short supply of having a sufficient amount of coaches to teach candidates their respective catechisms. Become a coach; start teaching candidates their respective catechisms for each of the three degrees.

Also, seize the opportunity to continuously educate yourself; read any one of the numerous books in the lodge library, read a "Short Talk Bulletin" summarize it and present it in open lodge, enroll in any or all correspondence courses offered by the Grand Lodge. Doing so will help you to better understand the meaning and symbolism behind the ritual; it also serves to better inform the candidate as well.

Young and newly raised Master Masons need to seek out those Master Masons who have labored in the quarries of Freemasonry and are the repositories of masonic light in order to expand their knowledge. This will forge relationships and friendships that will last a life time and serve to perpetuate and enhance your masonic journey. For those Master Masons who have labored long and hard in the attainment of that masonic knowledge, you are needed as well. Consult with the Worshipful Master and his appointed Lodge Instructor of Work and Lodge Education Officer to reinvest yourselves in your Lodge as a coach/mentor or in whatever capacity you are available to assist those who are beginning their masonic journey.

Ultimately any direction you take on your journey in Freemasonry will serve you well in the attainment of more light in Masonry. Not only will you benefit from it but the brethren and your lodge will reap the rewards of your efforts as well.