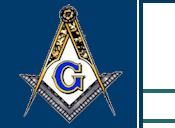 Lynnhaven Lodge No. 220, A.F. & A.M.
Virginia Beach, Virginia
 
Lynnhaven Lodge No. 220 was first conceived during a discussion following a church meeting at Lynnhaven Presbyterian Church in March 1961. Several active Master Masons were discussing the need for a Lodge in the immediate area and agreed to pursue the idea. Petitions were circulated for possible members and on April 13, 1961, a meeting was called to formalize the creation of a Masonic Lodge in the Lynnhaven community. The meeting was held in the Lynnhaven-Little Neck Civic League building with Right Worshipful Ira McCloud presiding. Forty-two brethren had signed the petition and many attended this first meeting to assist in this serious endeavor. At this meeting, the Lodge name was selected and the first stationed officers were elected.
 
Subsequent meetings were held on May 12, and July 8, 1961, to establish committees for the dispensation request, meeting site, and furniture, etc. On July 13, 1961, a request was made to the Grand Lodge of Virginia for a dispensation to work under the selected name with the following officers:
 
Ira McCloud                           Worshipful Master
William Bradt                         Senior Warden
Cecil C. Canton                      Junior Warden
 
The Grand Master of Masons in Virginia approved the request on July 26, 1961. The first stated communication was held on September 14, 1961, when the dispensation was presented to the Lodge. Four petitions for degrees were read and the Lodge was off and running.
 
At a stated communication on November 9, 1961, the number 220 was selected. Worshipful Brother Bradt had researched several available numbers and provided a history of the number. It had belonged to Mount Moriah Lodge No. 220, located near Washington and was charted in 1866. Due to dwindling membership the Lodge surrendered its charter and merged with Washington Lodge No. 78 in July 1958.